Planning your summer wedding? Summer is a popular time for weddings, but that doesn't mean you have to stick with the usual wedding traditions.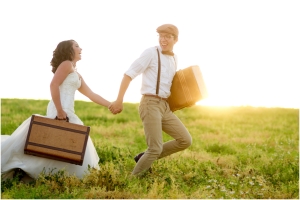 7 hot new ideas for your summer celebration.
Trend 1: Dynamic Colors
Bright hues are popular for summer weddings. Think sophisticated brights. Sticking with just two hues (or two plus an accent color) will keep your space unified. Rather than splashing color all over your reception space, use one dynamic color for a strong statement — think all-pink centerpieces or bold orange table linens. This holds especially true for your centerpieces: Instead of multicolored centerpieces, alternate single-color floral arrangements for a pulled-together look.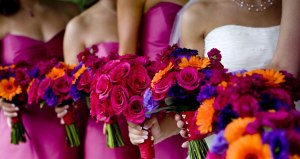 Trend 2: New Themes
Basic beach or garden themes are classic for the summer. Instead of a generic setting or theme, take the personal route: Think of your favorite summer hangouts when planning your theme. Rather than just any beach, bring in elements specific to the beach you remember as a kid. If it was a cabin in the woods, go for a mountain theme. Another idea: Honor your honeymoon destination. If you're having a garden wedding but honeymooning in Hawaii, add orchids to your bouquets or fill the bottoms of your centerpiece vases.
Trend 3: Incorporate Summertime Music
To really embrace the summer season, think about alternative music styles. Create a laid-back vibe during your cocktail hour and dinner. For the reception, heat up the evening with one of Los Angeles best DJ's. Dream Team Entertainment is capable of hosting any kind of musical request for your cocktail hour, reception, or ceremony! Contact our booking specialist for a free consultation: (818) 783-1812.
Trend 4: Unexpected Invitations
Elegant invites are still as popular as ever. But if you want to go for something a little more unexpected, ultra-creative wedding invitation designers definitely have color and printing options for you. Use colors in a new and unexpected way on your invites by reversing the typical invitation color scheme. For example, rather than using fuchsia lettering on a cream-colored invite, opt for cream print on fuchsia paper. Or mix it up — do the cream-colored invite with fuchsia writing, and then a bright pink reply card with a cream-colored font. One hot-off-the-press idea: Get fabric-printed invites, programs, and escort cards for a laid-back look perfect for summer.
Trend 5: Beyond Wedding Cake
White wedding cakes are popular for every season, and of course, chocolate always reigns for groom's cakes. But with cake bakeries offering so many delectable flavors and fillings, why not try a seasonal selection?
Get inspired by the summer flavors you loved as a child. Think fresh strawberries and whipped cream filling for a strawberry shortcake-style wedding cake, or a citrus-infused filling like Key lime, lemon, or orange vanilla buttercream that honors a summertime fruit. Beyond the cake, consider serving other desserts. Hire an ice cream truck to arrive at the end of the night offering summertime favorites — the perfect late-night snack for your guests.
Trend 6: Blushing Bride
It's officially time to step away from traditional white and ivory and hop into something beautifully blush! Soft pastel pinks have been a popular choice for bridesmaids and theme colors over the past few years, but now it's time for the bride to take center stage in something modern and perfectly elegant; Blush pink!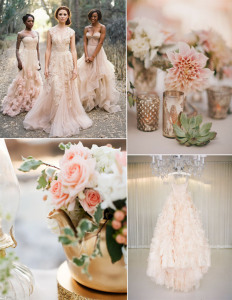 Trend 7: Vintage Weddings
Vintage Weddings are a trend that just gets more and more popular! Have you been thinking about having a vintage wedding? Vintage themed wedding is timeless, beautiful and totally unique. Plus the photos are sure to be fun and creative!